Oak Lawn Community High School
Class Of 1988
Welcome to the Oak Lawn Community High School Class Of 1988 web site!
This site will be your main resource for all class and reunion information. If you have any questions, or cannot find what you are looking for, click on the Contact Us link on the left-hand side of the page.
Totally AWESOME '80s REUNION - Register TODAY!
Our 25th Reunion will be held on Saturday, November 2, 2013. Please mark your calendar and plan to join us for the Totally AWESOME '80s Reunion! Check out the 25-Year Reunion tab for registration info.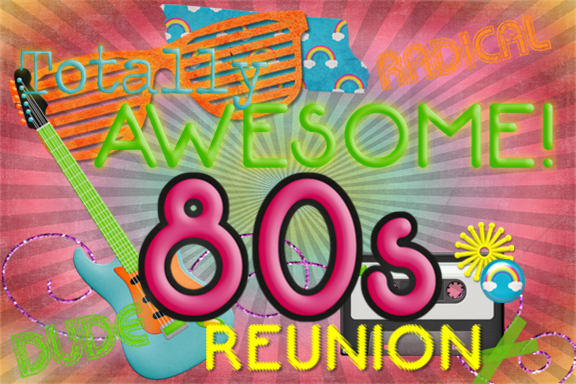 Top 5 Crummy "Reasons" for
NOT Attending the Reunion
5. I'm not sure my schedule / commitments / job / family / [you-name-it] will allow me to come.
Unless you are absolutely positive there's no way you will be able to come, register! Once you make the commitment to attend, it's amazing how everything else can be arranged to make it possible.
4. I don't want to come without my spouse / significant other, and I don't think they will have any fun.
If our past experience is any guide, this is a non-issue. Most spouses and significant others quickly become "honorary Spartans" and have a great time! They even go so far as to say they can't wait for the next reunion!
3. I know what high school reunions are like – it's just a bunch of boring people standing around bragging about their jobs, their marriages, their kids, etc., etc.
Yes, that is the stereotype of what many high school reunions are like. But ours are NOT like that – the last two reunions have been great parties and a lot of fun!
2. I won't know anyone there. Or they won't remember me. Or they will remember me for the wrong reasons.
It doesn't matter. We'll treat you like family anyway! Many classmates who attended past reunions have made more "NEW" friends with old classmates – we've all grown as people – come check us out!
1. I've gained weight, I'm not successful enough, I'm divorced, etc., and I am concerned about what people will think of me.
No matter how real or how strong these feelings may be before you arrive, you'll soon find out that none of this stuff really matters.
The plain truth is: We want to see you!
We're going to have so much fun, you'll be talking about this event for months afterward! So head on over to the 25-Year Reunion tab and register today! We want to see you there to join in the FUN, frolic and festivities of our Totally AWESOME '80s Reunion!
ANNOUNCEMENTS
•

Missing Classmates
We are still looking for confirmed contact information for several classmates. If you have an email address for any classmate, you may enter their email address in the box at the right and invite them to update their profile on this site. If you have any other information that may help locate lost classmates, please send us that information by clicking on the Contact Us link on the left-hand side of the page.

•

Alumni Directory
In order for us to find you more easily for future reunions, be sure to include your most current contact information on this site as well as in the OLCHS Alumni Directory. Visit OLCHS.org today!